Handy hints
Watch the sun rise over the magnificent river Nile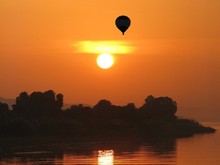 from the top deck of your Discover Egypt cruise boat. A Nile cruise is a fantastic way to see some of Egypt's best tombs and temples, and perfect for a first visit to this fascinating country. Typically, on a week's cruise you sail between Luxor and Aswan and back, stopping off to see all the best sites – Luxor and Karnak temples and the West Bank attractions, Edfu, Kom Ombo, Philae temples and Aswan – accompanied all the way by your own expert Egyptologist guide, who'll explain all about the history and culture of Egypt. Your cruise will include most entrance fees, all your meals – even afternoon tea and cake when you're sailing – and an exciting range of entertainment.
Crawl inside a Great Pyramid in Cairo. You have to pay an extra £E10 to go down a narrow tunnel to the inner chamber, and there's nothing there except a stone sarcophagus and archaeologists' graffiti, but do it unless you're claustrophobic just to say you have! Do gaze into the inscrutable face of the Sphinx, too; do not take a camel ride – some unscrupulous camel drivers refuse to let hapless tourists off the back of their beasts until they pay a 'surcharge' (it should cost you £E15 an hour) – you're much better off booking Discover Egypt's Nubian Village excursion in Aswan which includes a camel ride across the sands of the Sahara. While in Cairo, other excursions should include the Step Pyramid at Saqqara, and the ancient capital of Memphis.
Get a henna tattoo during a fascinating visit to a Nubian village. Your Discover Egypt Nile cruise offers this excursion at extra cost. You can ride a camel across the sands of the Sahara, then in the village local girls can paint a beautiful design in henna on your ankle or shoulder – it doesn't last as long on your hands – for just a few Egyptian pounds.
Discover Egypt's sun, sea and sand resorts next to the fabulous Red Sea. As well as watersports galore, including spectacular diving, of course, many hotels also have fantastic spas, and massages on the beach are widely available. The Four Seasons Resort in Sharm el Sheikh, for example, offers a selection of baths, including a Cleopatra milk and honey bath and an Egyptian Pharonic Massage. Discover Egypt can tailor-make your holiday for you – combining a week's Nile cruise with a week's relaxation at the resort of your choice.
Take a hike to St Catherine's Monastery, reputedly built on the site of the biblical Burning Bush on the remote Sinai Peninsula. The monastery lies at the bottom of Mount Sinai, where Moses received the Ten Commandments, and is easily accessible from Sharm el Sheikh or the other nearby Red Sea Resorts on a Discover Egypt excursion. You can also take jeep safaris and camel safaris into the desert, or even dine in Bedouin tents.
Learn to dive at a Red Sea resort. The sea here is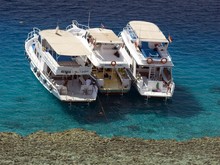 stunning and dive sites are some of the best in the world, particularly around Sharm el Sheikh on the tip of the Sinai Peninsular. Many resorts have their own dive schools where you can learn to dive for the very first time and hire all the equipment you need – Discover Egypt can organise your holiday for you in a range of accommodation, from five-star resorts to more basic accommodation aimed at younger holidaymakers.
Sip sugar cane juice in the real Sharm el Sheikh, a short taxi ride from Naama Bay, where most of the hotels are sited. The juice is extracted to order by a machine, is delicious and not nearly as sweet as you'd expect. Hibiscus juice, or karkade, is also very refreshing – and good for high blood pressure apparently. The local beer called Stella is also good, comes in large (about 20 oz, you can easily share one) bottles and costs about £E15, depending where you're drinking it.
Smoke a shisha at the Egyptian café at Kom Ombo temple, Upper Egypt – just can't miss it, it's opposite the temple, which itself is right by the Nile and a beautiful sight lit up at night. Shishas, or water pipes, cost as little as £E1 or up to £E5 depending on where you're smoking it. They come in an assortment of flavours; apple is the best. This café also serves great mint tea. You'll visit the temple of Kom Ombo on your Discover Egypt Nile cruise, and don't miss the mummified crocodiles in a small room to the right of the temple.
See the Sound and Light show at the Pyramids – You sit right in front of the awesome triangles and lasers play up and down their contours while thespians' booming voices tell you all about these ancient wonders. You'll find several such entertainments in Egypt – there's one at Karnak temple, Luxor, too, offered as an extra excursion by Discover Egypt.
Watch the sun set from King Fouad's Corner, a terrace built especially for the purpose, or the Terrace Bar at the Old Cataract Hotel, Aswan. The hotel, opened in 1899, is one of the most famous in Egypt and has some of the best views of the Nile. Celebrities galore have stayed there, from Winston Churchill to Princess Diana – Agatha Christie wrote Death On The Nile there. Discover Egypt can arrange your stay at this famous hotel.
See that golden mask and the many thousands of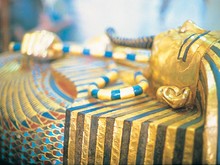 other precious items famously found in the tomb of Tutankhamun by Howard Carter in 1922, and now on display at the Egyptian Museum, Cairo. Do pay the extra to enter the Royal Mummy Room – Ramses II, Egypt's greatest pharaoh, is there, and he's still got teeth, hair and nails! Afterwards, take a tour of Old Coptic (Christian) and Islamic Cairo – including the Hanging Church, the Church of St Sergius on the site of a cave where the Holy Family sheltered, and the impressive Mosque of Mohammed Ali in the Citadel - Discover Egypt can tailor-make your holiday in Cairo to take in all the sights you wish to visit.
Dine by candlelight moored beside the amazing twin temples of Abu Simbel. Discover Egypt operates cruises on Lake Nasser, the world's largest manmade lake at Aswan, and it's the perfect second trip for holidaymakers who have already tried a Nile cruise. Clients get to visit a number of less-known temples as well as Abu Simbel, Egypt's greatest monument after the Pyramids. The two massive temples were hewn out of solid rock in Nubia, 175 miles south of Aswan, and the 108-foot façade of the Great Temple features four colossal enthroned statues of Ramses II. The Temple of Hathor was built in honour of Ramses's favourite wife, Nefertari. In the 1960s, as the Nile was dammed at Aswan to control flooding, Lake Nasser was created, threatening to drown Abu Simbel and other temples. So, incredibly, UNESCO cut the temples from the mountain and moved them to a higher, artificial cliff.
Haggle like mad at any of Egypt's brilliant markets. Khan al-Khalili in Cairo is famous for its vast range of souvenirs on sale, Aswan has a great spice market, and Luxor's backstreets are packed with exciting bazaars to visit – ask your guide about how to get the best price and how to tell genuine papyrus, alabaster and gold from fakes. What to buy? Flower essences, papyrus, alabaster, cotton, spices, bottles of coloured sand with camel pictures in them. Toy camels should be from the street children, and who cares about the quality. If you get fed up of the attentions of Egypt's persistent street hawkers, look them straight in the eye, smile and say firmly: 'Welcome.' It's usually their opening line, and in the confusion you can make your getaway.
Marvel at the sheer beauty of Queen Nefertari's tomb in the Valley of the Queens near Luxor. Nefertari was the favourite wife of Ramses II. Discovered in 1904 and reopened after restoration in 1995, her tomb is one of the best in Egypt, with the most vivid wall paintings. On the West Bank of Luxor you should also see: the Valley of the Kings, Queen Hatshepsut's Mortuary Temple, the twin statues known as the Colossi of Memnon, and the Ramesseum, Ramses II's Mortuary Temple. Again on a Discover Egypt Nile cruise, entrance fees to all these monuments will be included in the cost of your holiday. Do pay the extra to go down into Tutankhamun's tomb in the Valley of the Kings – true, there is no treasure there, but his mummy still is, as well as one of the coffins; besides, it's very atmospheric.
Ride a caleche around Luxor. Yes, some of the horses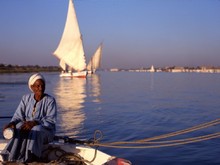 pulling carriages look very thin, so if you can, pick one that looks well looked-after – there are many – to encourage drivers who aren't so kind to get their act together. Specify exactly where you want to and how much it will cost; caleche drivers always ask for a tip for themselves and one for the horse, who invariably will be called Ali Baba. Be firm. And be careful – some tourists report being carried off to relatives' shops by drivers, who then refuse to take them back to their hotel until they have bought something. Find a tourist policeman if this happens, and make a huge fuss until you're taken where you want to go.
Sail in a felucca on the Nile. A trip in a traditional sailing boat with the big white sails is great fun. Your Discover Egypt Nile cruise holiday price includes such a trip in Aswan sailing down the Nile and around Kitchener's Island. While in Aswan, you'll also see the Unfinished Obelisk, abandoned after a fault was found and still lying in its granite bed, the Aswan Dam and the High Dam.